The stock market consists of thousands of stocks. But as a trader you want to be very selective. Why? Because you want to select only stocks which have a high potential for possible profits.
Huge profits don't emerge from huge risk, they emerge from uncertainty. Millions of analysts analyze large and known companies like AT&T, Walmart or Apple. Of course those companies can grow and accelerate its growth, but often they will not disrupt markets (again). Because of this the potential is limited and the most CEOs try to smooth their stock prices to don't scare investors.
What is a high potential or disruptive stock?
For me high potential means a potential for future surprises. A high potential company is mostly active in a sector with huge growth or a potentially bright future. There must be room for uncertainty that is filled by imaginations of investors and traders.
Disruptive can be high potential, but there is much more uncertainty. A disruptive company creates new markets, products or completely change them.
Most of those companies do not have any profits or a clear bright future. There are only imaginations by investors which drives the stock prices. It can be a startup which goes bankrupt the next day because their product failed or a company where a new drug is not approved.
High potential or disruptive sectors
If you want to find sectors with high potential you have to ask yourself: How will the world looks like in 3, 5 or 10 years? What are sectors which creates products which everyone will use future? Here are some examples:
Medical: The developed countries have a demographic problem. This will help medical companies to create profits in future. In addition there will be new products, services and processes. The costs are exploding and new companies will help them to reduce.
Internet: Common services will be replaced against internet based services. This touches every sector: Food, jobs, medical, banking and much more.
Technology: You will find semiconductors in every product in future and every product is connected to each other. The Internet of Things will revolutionize every sector.
Security: In the lasts years we saw a huge change of war tactics by terrorism. New companies and technologies will deliver the answer to this and help us to make the world more secure.
Examples of disruptive industries
The upper sectors are the most interesting for potential future growth. Inside these sectors we will find disruptive companies and industries:
Biotech: This is one industry with a huge potential. Imagine what will happen if a company finds a cure for cancer or a therapy to extend peoples life.
Medical cannabis: More and more companies created medicine with Cannabis. This is a complete new sector and helps to reduce costly normal cures.
Machine learning and Artificial Intelligence: A lot of people know these buzz words. But this industry is currently at the starting point of a long journey. Machine learning will help us to create medicine, make our life more secure and creates new industries. Everyone can use such algorithms but it's more important what a company does with it.
Weapon detection: It's the goal of our governments to make our life more secure. But you can't control every pople at the metro or airport. A solution can be found in software and machine learning. Such a solution is fast and do not need a lot of security staff. You will see an example below.
Blockchain: We don't know if this technology will revolutionize industries or sectors. But there is a possibility that it will have a huge influence on the world trade and other markets. One thing I can say for sure: Known companies will not be the leader in this industry.
Aerospace: Think about Space X and their mission. The space will be discovered one day and there will be companies which will develop revolutionary technologies for this. We need new rockets and space shuttles.
These are just a few new disruptive industries as examples. There are much more and sometimes they are hard to find.
Technicals are more important than fundamentals
If you analyze only fundamentals you will miss such companies. Mostly they do not have any earnings or sometimes they do not have sales. Because of this there is a high risk in such stocks. But if you look at the technicals of such companies you can find a next new leader.
A disruptive stock which explodes to the upside is telling the story: Capital is flowing into the stock and investors begin to believe the story behind the stock. That's everything you need to know. You are not interested in the company itself, you are only interested in price moves.
Often a disruptive company surprises with news. Maybe a new technology finds first customers or is approved by an agency. Sometimes the whole company is bought by another one. Such news with drive the stock price higher and bringt a great profit.
Manage risk strictly
Companies which do not have earnings or sales are only driven by believes of investors. There is a huge risk that such a company will go bankrupt overnight or publish bad news. Because of this you have to manage risk more strictly than normal. Here are some tips:
Be prepared for a 50% overnight gap. Example: If a biotech stock opens with a 50% gap and you have a 25% position, your loss is 12,5% of your whole capital. Make sure you limit your position size to 5-7,5% for biotech stocks.
Never trade against the trend. If a disruptive stock is in a down trend, never trade them. That stock is not in focus of investors and traders. Only trade them in uptrends.
Be prepared for higher volatility. Small caps and disruptive stocks can be more volatile. Make sure you don't get stopped out with a 10% move against your position.
Do not get crazy with disruptive stocks. If your disruptive stock shows a large profit you are maybe tempted to go all in. But that's risky. Although you have a huge profit cushion there is a danger of bankruptcy or bad news. Limit your position size to 25-35% at maximum!
5 examples of disruptive stocks
Now you read a lot about what's high potential or disruptive. The companies below creates disruptive product and you maybe never heard about them. But remember: A disruptive company means not that the stock chart looks great! Often it's the opposite. But you want to monitor such stocks and one day the news is out and the stock is in focus. Then you are prepared to wait for a great setup!
$CRSP – CRISPR Therapeutics
Some of you maybe know this stock. It's a biotech company which develops a revolutionary cure for cancer. The stock chart looks not bad and maybe a decent setup will appear soon.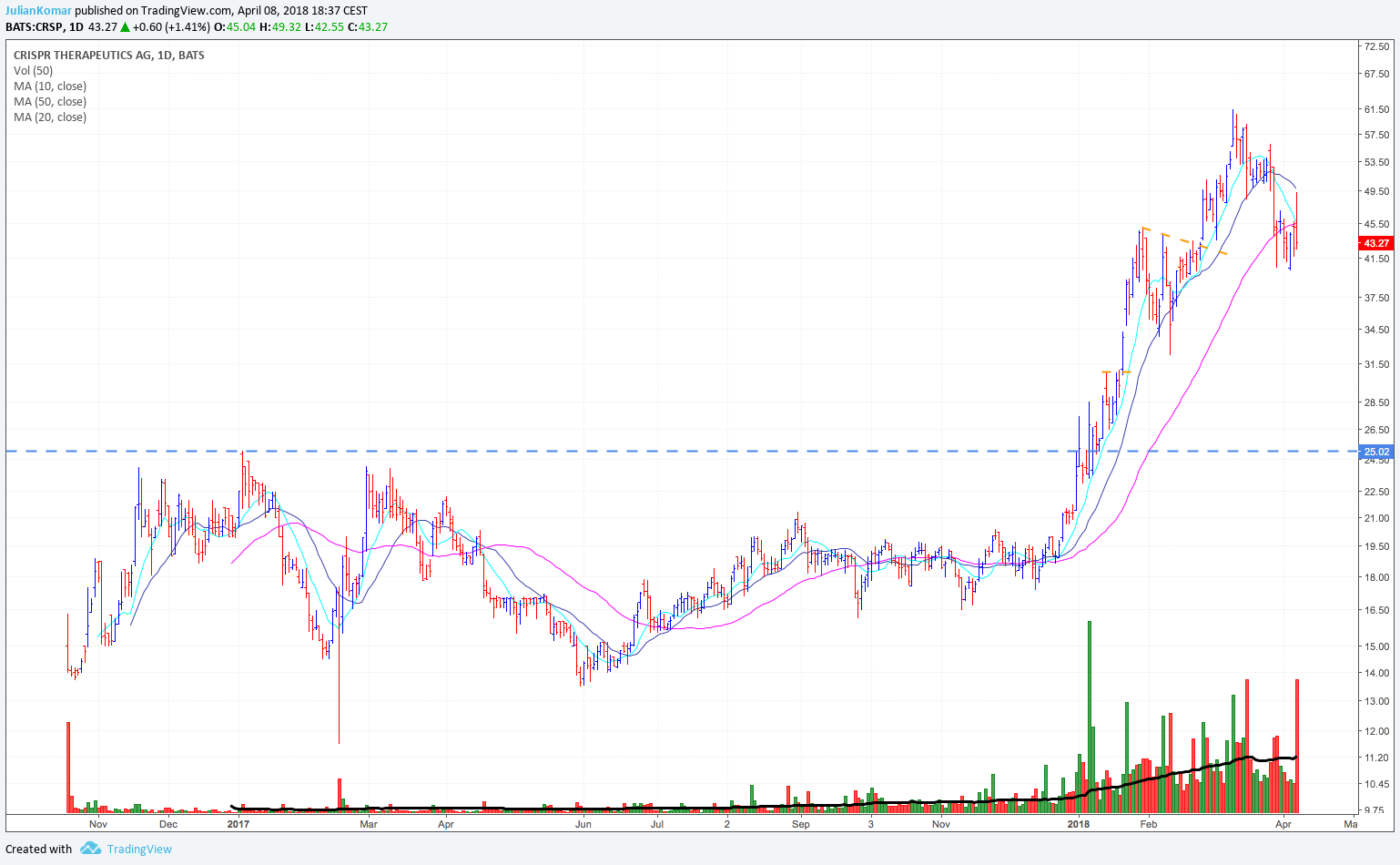 $VUZI – VUZIX Corp
This company develops smart glasses. Think about what smart glasses can change in future: Maintaining machines, additional information in your daily life, entertainment … The stock charts looks really bad. But maybe one day a news is published and the stock explodes.
$SSTI – Shotspotter / $PTOTF – Patriot One Technology
Both companies are focused on new ways to detect weapons and shootings. The goal is to make our life more secure and they use machine learning to do this.
Shotspotter is focused on detecting shootings at universities and public areas. This is a technology every city and university is interested in! Maybe a story for high growth.
Patriot One is focused on detecting weapons and bombs. It uses software with machine learning and some hardware to do this. Imagine that every airport and metro station uses this technology. The stock charts looks not so good at the moment.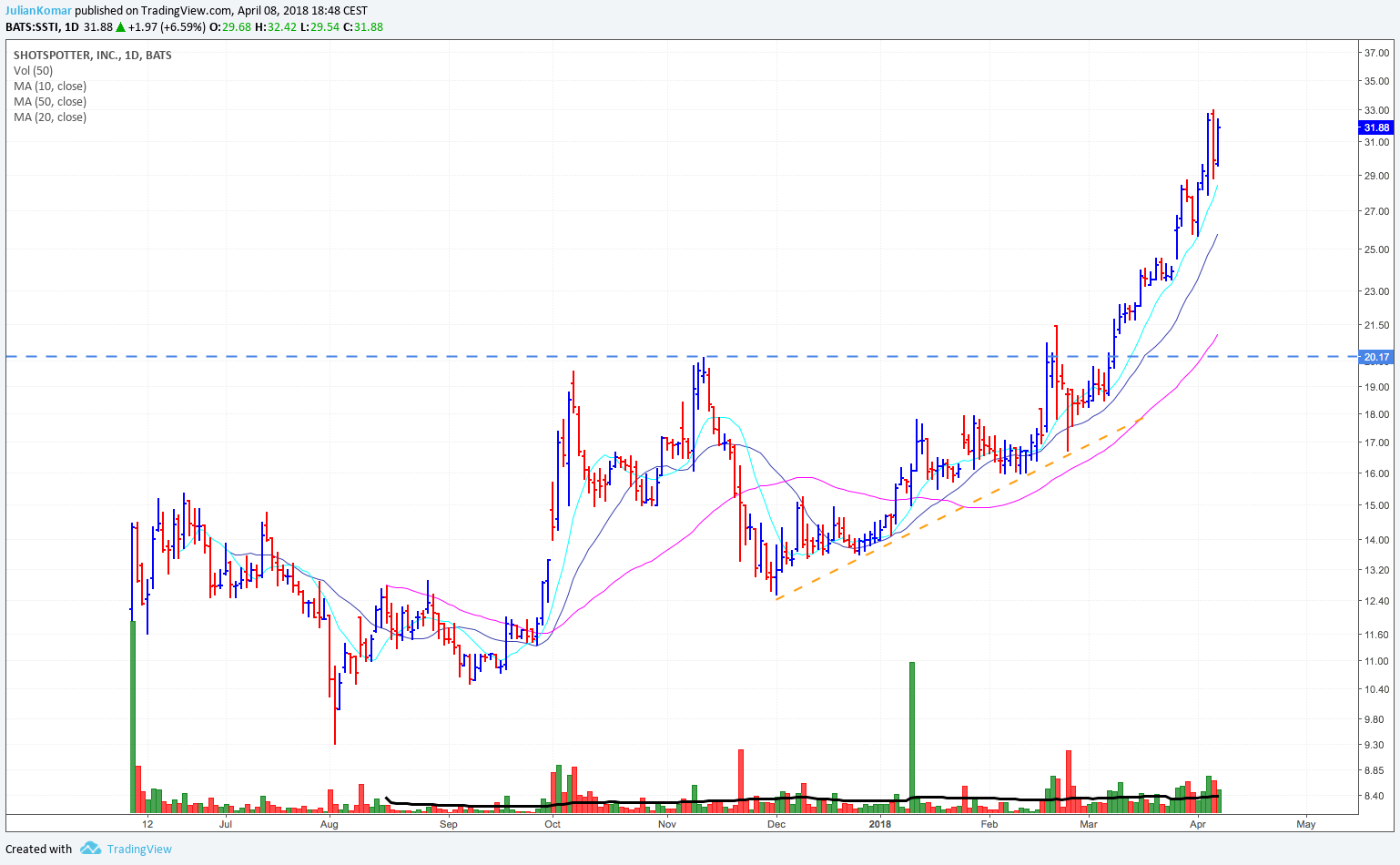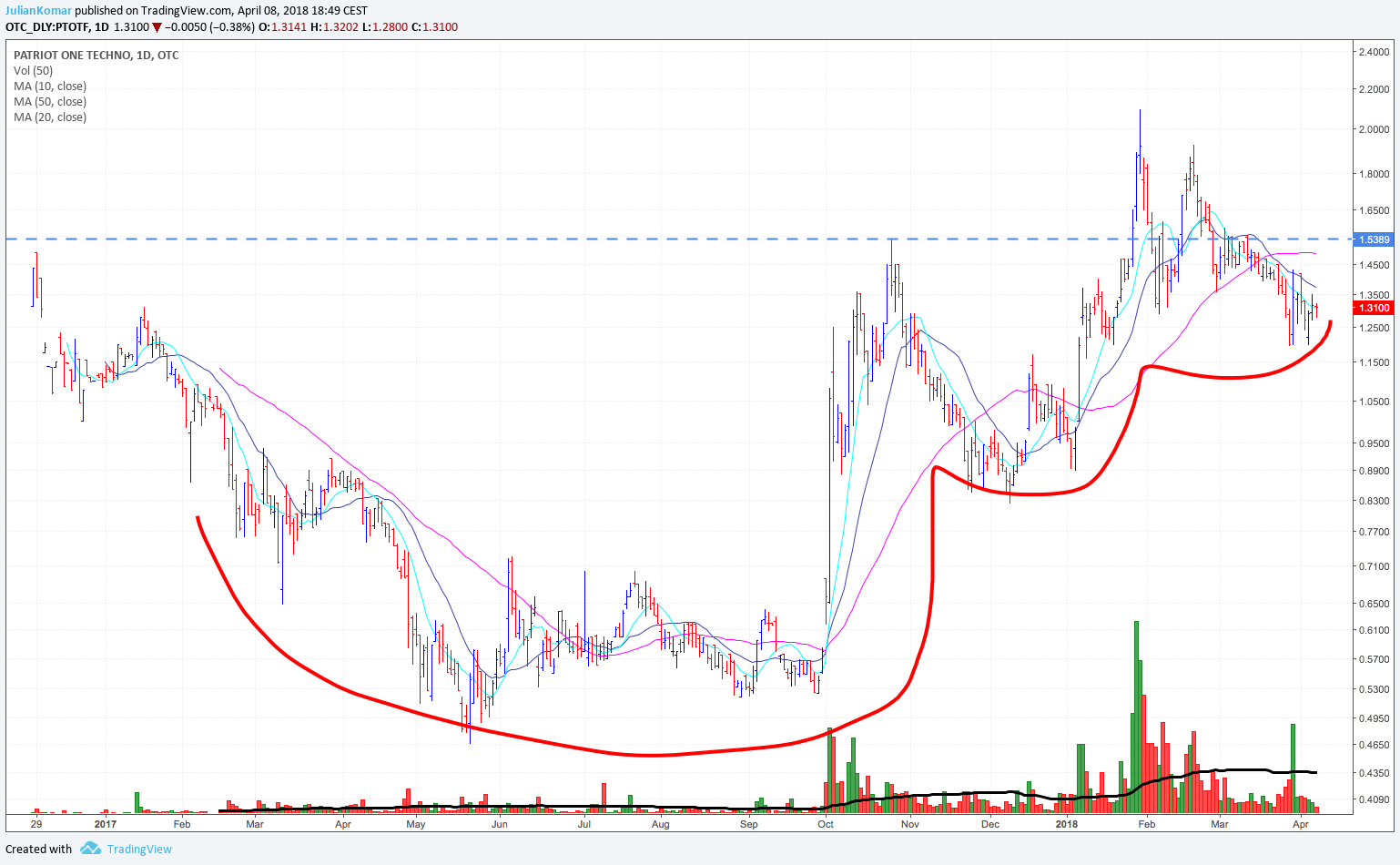 $WATT – Energous Corp.
Everyone knows wireless charging, but this company created a technology for real wireless charging. Go on their website and look at the videos! Every device is linked to each other and they are creating a huge network to charge their batteries. Imagine if you are taking the bus and your smartphone battery is loading automatically.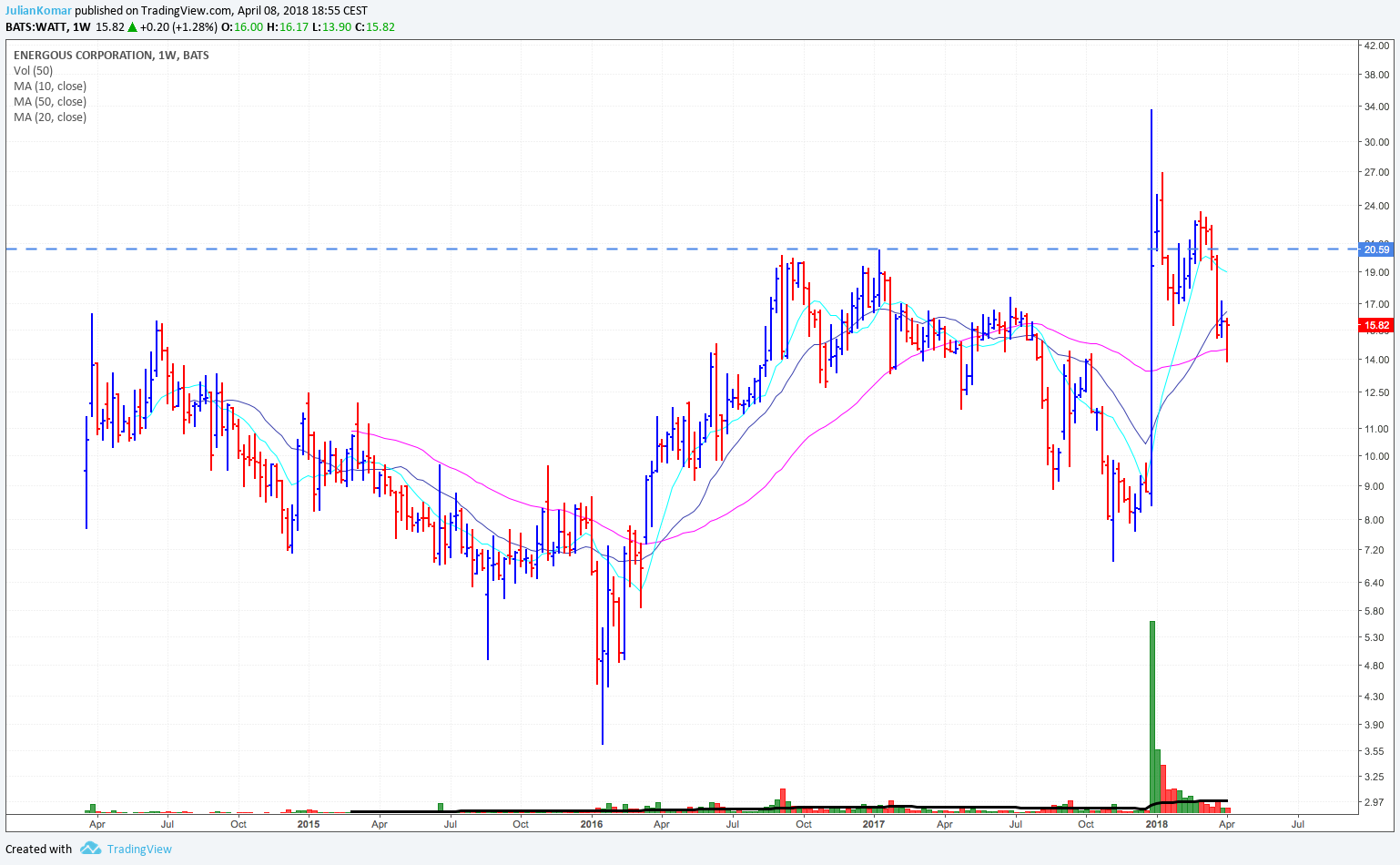 $WNDW – Solarwindow Technology
Solar technology is nothing new. But real solar windows are interesting and disruptive. The company is founded to develop this technology. The first customers are constructors of skyscrapers. They can use solar windows for the whole frontage of the building. But the stock chart looks really volatile.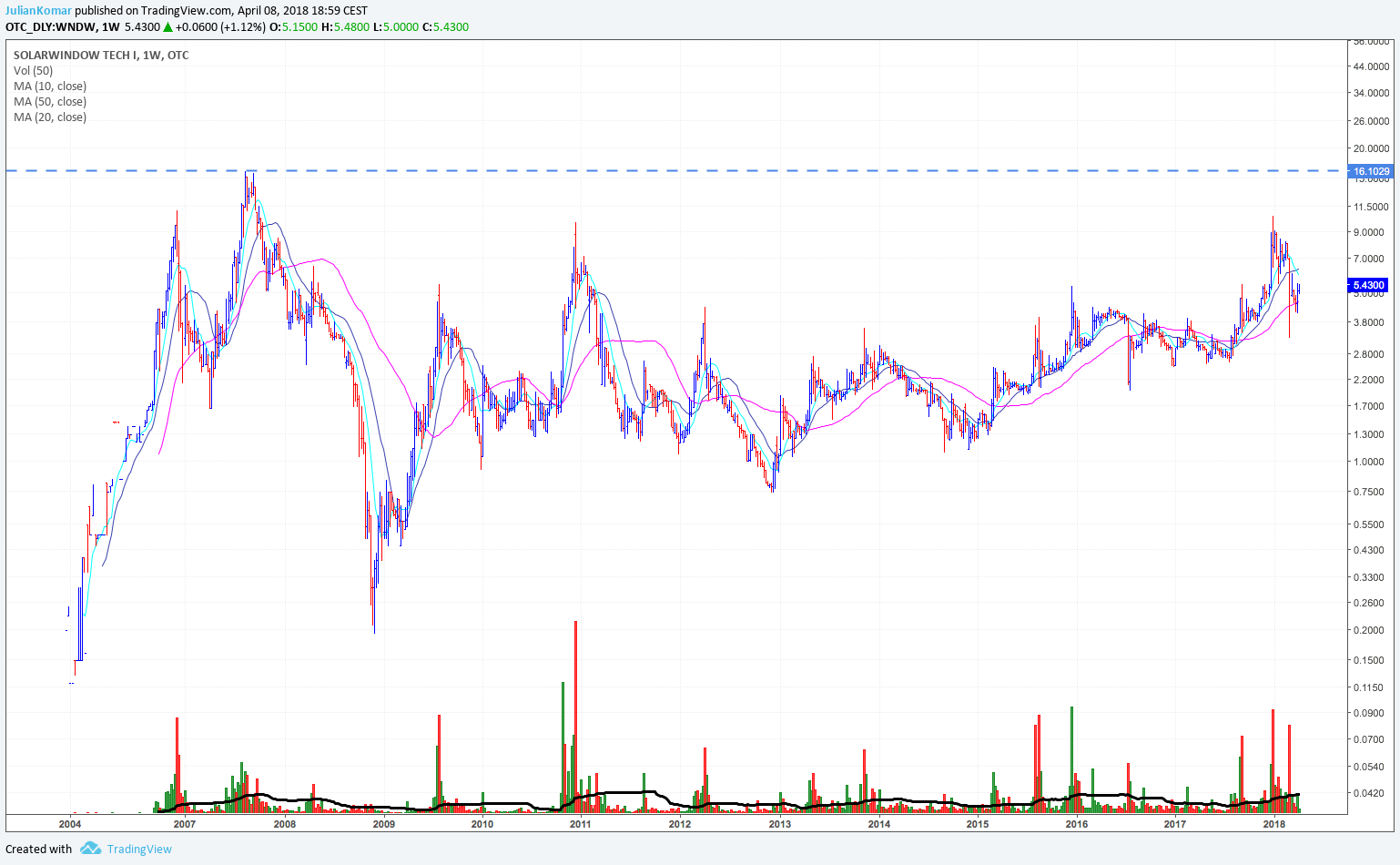 I have some other companies for you: $IIPR, $TWMJF, $LUNA and $RKDA. Try to find out more about the companies and their stock charts.
Recommended books
Here is a small list of recommended trading books about this topic.
Der Beitrag Disruptive stocks: 5 examples and trading tips erschien zuerst auf Trading Blog – Julian Komar.